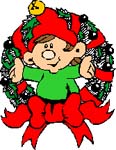 Parent To Parent
Letters From Santa knows that being a parent is an on-going life-long process.
We are not born omnipotent and sometimes we even learn the simplest, yet most rewarding, things from our children. Here you'll find
articles
that help you stay up to date with the world of parenting, as well as articles that may inspire, encourage and educate you through your journey of parenthood.
Letters From Santa: A Way To Share The Season
Personalized Santa letters are a fantastic way to share the holiday season and create memories. Letters From Santa are unique to each recipient and make a great yet inexpensive gift for children and adults.
For children, a Letter From Santa creates smiles, excitement and everlasting memories! Each letter reinforces sharing and giving, encourages good behavior and helps maintain childhood innocence by keeping the belief in Santa alive. Santa letters also help build confidence and self esteem. Every child likes to know they are loved and thought of, especially by Santa. Letters From Santa can be given to all the special children in your life. For example you can send a letter to:
Your children
Your grandchildren
Your neices and nephews
Your neighbor's children
A foster child or latch-key child
An ill or convalescing child
A child that is grieving
Any special child in your life
Keep in mind that Christmas is Read More
2009 Top Toys
Christmas Corner