Holiday Crafts
Holiday Placemats
Materials: Christmas cards, stiff construction and clear contact paper.
Cut construction paper to size of a placemat. Arrange cards onto construction paper and cover with clear contact paper. For a more personal touch, insert family pictures. If giving as a gift, make a set of four.
Napkin Rings
Materials: Paper towel tubes, Christmas cards, ribbon, felt, sequins, white glue.
Cut paper towel tube into widths to match the width of Christmas ribbon. Wrap felt around tube and glue in place. Add smaller ribbon trim, sequins to outside edges or a cut out from a Christmas card to center of felt. If giving as a gift make four.
Cinnamon Logs
Materials: Cinnamon sticks, ribbon, berries, bells, leaves
Glue three cinnamon sticks into a stack (so that they look like a stack of logs). Tie a ribbon around the stack and tie a bow on top. Embellish with berries, leaves or whatever you desire. Tie a ribbon for hanging. Makes a fragrant decoration for use anywhere in your home.
Nutty Pine Cones
Materials: Large pine cones, bird seed, peanut butter, ribbon
Coat pine cones thoroughly with peanut butter, sprinkle with birdseed until well covered. Tie ribbon to top of cone. If giving as a gift, wrap gently in several layers of tissue paper and place in a box that will hold your gift snuggly. Or hang Nutty Pine Cones out on the tree branches by ribbon. This is an easy and inexpensive gift that you and the birds will enjoy.
Birdseed Hearts
Materials: Package of ready-to-bake breadsticks, beaten egg, birdseed
Open breadsticks, separate and form into "heart" shapes. Pinch the ends of each to seal. Brush with egg and sprinkle with birdseed. When cool, tie a festive ribbon around them and hang them from the trees outside. If giving as a gift-wrap in tissue paper before boxing. Note: Seed crafts are not edible, unless you're a bird.
Paper Plate Wreath
Materials: Paper plates, construction paper, white glue, markers
Cut a circle out of the center of a paper plate. Decorate the outer circle with cut out holly leaves from green construction paper. Add small circles of red construction paper for berries. You're your child add a special greeting and hang by a string.
Clothespin Reindeer
Materials: Clothespins, white glue, "eyes", ribbon, mall pom-poms
Use three clothespin pieces: two pointing down (4 legs); the third pointing up (ears). Add "eyes", a small red pom-pom nose, a ribbon on the neck, and a pom-pom tail. Kids love this project and will want to make all the reindeers. Makes a nice ornament or gift decoration.
Potato Stamp Art
Materials: Potatoes, Brown Paper Bags, Placemats, Paper, Washable Poster Paints, Knife (adults!)
Cut potatoes in half and then cut a design such as a star, Christmas tree, triangle or diamond, on enough potatoes for each child. An easy way to cut in a design is to press a cookie cutter into the cut potato end and cut around the cookie cutter. Give each child a pre-cut potato and small dishes of poster paint to decorate bags, placemats or paper. Children should dab excess paint onto a blank piece of paper before starting each project. The placemats make cute gifts. Your children can use the decorated bags or paper to wrap presents.
Syrofoam Ball Glitter Ornaments
Materials: Styrofoam ball's (any size), colored glitter, white glue, pipe cleaners, sequins
In small amounts, place glue on the Styrofoam ball. Then place glitter and sequins on glue. Allow to dry. Poke a hole in the top of the Styrofoam ball and place a pipe cleaner in the hole and glue in place. Place glitter around where the pipe cleaner was attached to the Styrofoam ball to cover. You may also potato stamp the ball, let dry and then glue on glitter and sequins and let dry a second time before applying the pipe cleaner hanger.
Free Holiday Craft Projects Gingerbreadman Hot Pack Coupons KIds Can Give Make Gift Tags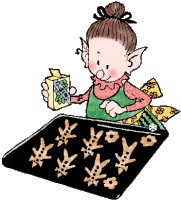 Holiday Recipes
Candy Cane Cookies
1 C. butter, softened, 1 C. confectioner's sugar, 1 egg, 1 t. vanilla,
1/2 t. peppermint extract, 2 1/2 C. sifted flour, 1/2 t. salt
1 t. baking soda, 1 t. cream of tartar, 2 T. of red food coloring
Beat the butter and sugar together until light and fluffy. Beat in the egg, vanilla and almond extract. Set aside. Mix the flour, salt, baking soda, and cream of tartar together. Stir into the butter mixture. Divide the dough in half and add the red food coloring to half the dough. Refrigerate dough for one hour.

Take one teaspoon of each color of dough and roll out into 4 inch long strips. Lay the strips side by side and twist together to make a red and white striped rope. Place the dough on an ungreased cookie sheet. Turn the end into a curve to make the canes handle. Repeat this procedure to make 12 canes.

Place one inch apart on baking sheet. Bake at 375° F. for 10 minutes. Cool on the cookie sheet for 10 minutes then transfer to a rack to cool completely.

Almond Crunch
Ingredients: 1 cup blanched slivered almonds, 1 cup butter, 1 1/4 cups white sugar , 2 tablespoons light corn syrup, 2 tablespoons water, 2 cups milk chocolate chips
Preheat oven to 375 degrees F. Arrange almonds in a single layer on a baking sheet. Toast in the preheated oven until lightly browned, approximately 5 minutes.
Line a jelly roll pan with foil. In a heavy saucepan, combine butter, sugar, corn syrup, and water. Cook over medium heat, stirring constantly, until mixture boils. Boil, without stirring, to hard crack stage, 300 degrees F. Remove from heat.
Working quickly, stir in almonds, and pour mixture into foil lined jelly roll pan; tip pan from side to side to spread candy evenly in pan. Sprinkle chocolate chips over candy brittle. Let stand about 5 minutes, or until shiny and soft. Spread chocolate evenly over candy. Cool to room temperature, then refrigerate for 1 hour. Break into bite-size pieces.
Chocolate Dipped Spoons
2 cups semi-sweet chocolate chips or chocolate melts, 1-2 tablesppons shortening (optional) For decorating or flavoring: white chocolate, broken peppermints pieces, cinnamon candies, red or green candy melts, wax paper, cookie sheet

Melt chocolate and shortening in a microwave safe bowl being careful not to scorch it. Then dip plastic heavy-duty spoons well in chocolate, tap off excess chocolate and let dry on wax paper at room temperature. Leave plain or decorate with cinnamon candies or broken bits of peppermint candy before they set. You can also drizzle white chocolate or red/green melts over them by placing melted chocolate in a plastic bag and snipping off corner. To give as a gift wrap in with plastic bags and tie with a festive ribbon. Gift suggestion: Place several spoons in a coffee mug with individual cocoa or coffee packets. Add a gift tag and fill with candy.
Chocolate Covered Pretzels
Use the same ingredients and procedures as above but substitute pretzels for the spoons. Use tongs to dip pretzels and let dry on wax paper. Drizzle with chocolate or decorate with candies, coconut, or sprinkles before chocolate dries. Gift suggestion: Place pretzels in a clear holiday themed bag, add a bow and tag.
Cheese Scones
2 cups flour, 2 teaspoons baking powder, 2 oz butter, 1/2 teaspoon salt,
pinch of cayenne pepper,3 oz. grated cheese, milk to mix to a fairly firm dough

Mix together flour, baking powder, salt and pepper. Cut in the butter: add milk and mix just enough to incorporate. On a floured board, roll our to 1/2 inch thick. Cut into rounds and place on greased cookie sheet. Brush tops with milk and sprinkle with some more grated cheese. Cook at 400 farenheit for 10 minutes.
Snowman Soup Recipe
3 cups powdered sugar, 1 cup nonfat dry milk, 2 cups instant NestleQuik
3/4 cup non dairy creamer, 1 large (6 oz.) box instant chocolate pudding
Mix all ingredients in a large bowl and store in air tight containers. To enjoy, add 3 T to a cup of boiling hot water. (Use more or less mix depending upon size of mug and your taste buds). Git Suggestion: place in colorful baggies, decorate with ribbon and include with the Chocolate Dipped Spoon recipe above. Or you could add a free Snowman Soup Gift Tag

Gourmet Cookie Mix In A Jar
1 cup all-purpose flour, 1/2 teaspoon baking powder, 1/2 teaspoon baking soda, 1-1/4 cup rolled oats, 1/2 cup white sugar, 1/2 cup brown sugar, 1.55 ounce chocolate bar, 1/2 cup chopped nuts (optional), 1/2 cup chocolate chips
With wire whisk, mix flour, baking powder, and baking soda. Pour into quart size jar and pack down level with heavy object. Mix oatmeal in a blender. Grate chocolate bar and mix into the oatmeal. Pack on top of flour in jar. Add white sugar and pack down. Add brown sugar and pack down. Layer chopped nuts on top of brown sugar. Finish layering jar with chocolate chips until even with the top. Use scissors to cut a nine-inch-diameter circle from the fabric of your choice. Center fabric circle over lid and secure with a rubber band. Tie on a raffia or ribbon bow to cover the rubber band. The prepared mix will stay fresh for only 1a few weeks after you put it together.
Attach a card with the following directions:
Gourmet Cookies
Preheat oven to 375 degrees F. Spoon chocolate chips and nuts into small bowl, set aside. Spoon brown and white sugar into mixing bowl, add 1/2 cup margarine or butter, cream well. Add 1 egg and 1/2 teaspoon vanilla, mix well. Pour oatmeal and flour mixture from jar into bowl, mix thoroughly. Roll into walnut-sized balls, place on slightly greased cookie sheet two inches apart. Bake for 8-10 minutes. Yield: Approximately 3 dozen delicious cookies
Learn How To Host A Cookie Exchange Here
Christmas Dinner
Christmas Recipes



All Rights Reserved