Join Our Mailing List
Subscribe now and you'll receive a Free Santa Letter Reminder and more. As a member of you'll also receive our newsletter, which contains a variety of articles, useful holiday tips, links, advanced notice on promotions and special seasonal offers. Your email address will not be shared or sold. Mailings are minimal and consist of no more than one per month. You may choose to opt-out at any time. Be sure to add our primary email address of
virtual14u@yahoo.com
to your address book to ensure receipt.

Tell A Friend
Thank
you for being our customer. Share our website with your friends, family and co-workers. You can tell them in person or email them using thre convenient "Tell A Friend" button below.

Adervtise With Us
Advertising is available for a small fee on each site. Fees are very low, so please contact us for more information. In addition, you can also participate in our reciprocal article exchange program where your approved article can be posted on our site for up to 30 days. To
advertise
with Letters From Santa or Assistance For You, please feel free to contact us at
Info@Assistance-For-You.com
Link to Letters From Santa
Linking to us is a great way to show your support! You may use the banner below to link to Letters From Santa. Please use this banner on your own website; do not link directly to the images on this page. Linking directly to the graphic below without saving the graphic to your computer is stealing. Please save a copy of the image to your own computer (right click on your mouse and click "save picture as"). You are authorized to link to our home page at http://sendasantaletter.com

If you'd like to trade reciprocal links, please contact us so we may review your site for its appropriateness. If we choose to exchange reciprocal links with your website, your link will be located in Santa Links. We appreciate your support!
Want To Link To Us? Right-Click To Save Our Banner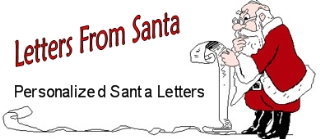 Link Banner To http://sendasantaletter.com